Who was the Khubilai khan?

Kublai Khan (1215-1294), Mongol military leader, founder and first emperor (1279-1294) of the Mongol Yuan dynasty in China, grandson of the Mongol conqueror Genghis Khan and his best-known successor. Kublai Khan completed the conquest of China that was begun by his grandfather. From 1252 to 1259 he aided his brother Mangu Khan in the conquest of southern China, penetrating successfully as far as Tibet and Tonkin. Upon the death of Mangu in 1259 he became the khan, or ruler. Between 1260 and 1279 he succeeded in driving the Kin Tatars out of northern China and in subduing rebellious factions among the Mongols. In 1264 he founded his capital on the site now occupied by Beijing; it was called Khanbalik, which is romanized as Cambaluc or Cambalu. He relinquished all claims to the parts of the Mongol Empire outside China, consolidated his hold on China, and in 1279 established the Yuan dynasty as the successor to the Southern Song dynasty. He undertook foreign wars in attempts to enforce tribute claims on neighboring states, conquering Burma (now known as Myanmar) and Korea. His military expeditions to Java and Japan, however, met with disaster.

His name was known all over Asia and also in Europe. The court at Cambaluc attracted an international group of adventurous men, including the famous Venetian traveler Marco Polo. Kublai Khan did much to encourage the advancement of literature and the arts. He was a devout Buddhist and made Buddhism the state religion, but during his reign other religions were also tolerated.



Samuel Taylor Coleridge

Kubilai Khan



In Xanadu did Kubla Khan
A stately pleasure-dome decree :
Where Alph, the sacred river, ran
Through caverns measureless to man

Down to a sunless sea.

So twice five miles of fertile ground
With walls and towers were girdled round :
And there were gardens bright with sinuous rills,
Where blossomed many an incense-bearing tree ;
And here were forests ancient as the hills,
Enfolding sunny spots of greenery.
But oh ! that deep romantic chasm which slanted
Down the green hill athwart a cedarn cover !
A savage place ! as holy and enchanted
As e'er beneath a waning moon was haunted
By woman wailing for her demon-lover !
And from this chasm, with ceaseless turmoil seething,
As if this earth in fast thick pants were breathing,
A mighty fountain momently was forced :
Amid whose swift half-intermitted burst
Huge fragments vaulted like rebounding hail,
Or chaffy grain beneath the thresher's flail :
And 'mid these dancing rocks at once and ever
It flung up momently the sacred river.
Five miles meandering with a mazy motion
Through wood and dale the sacred river ran,
Then reached the caverns measureless to man,
And sank in tumult to a lifeless ocean :
And 'mid this tumult Kubla heard from far
Ancestral voices prophesying war !


The shadow of the dome of pleasure
Floated midway on the waves ;
Where was heard the mingled measure
From the fountain and the caves.

It was a miracle of rare device,
A sunny pleasure-dome with caves of ice !
A damsel with a dulcimer
In a vision once I saw :
It was an Abyssinian maid,
And on her dulcimer she played,
Singing of Mount Abora.
Could I revive within me
Her symphony and song,
To such a deep delight 'twould win me,

That with music loud and long,
I would build that dome in air,
That sunny dome ! those caves of ice !
And all who heard should see them there,
And all should cry, Beware ! Beware !
His flashing eyes, his floating hair !
Weave a circle round him thrice,
And close your eyes with holy dread,
For he on honey-dew hath fed,
And drunk the milk of Paradise.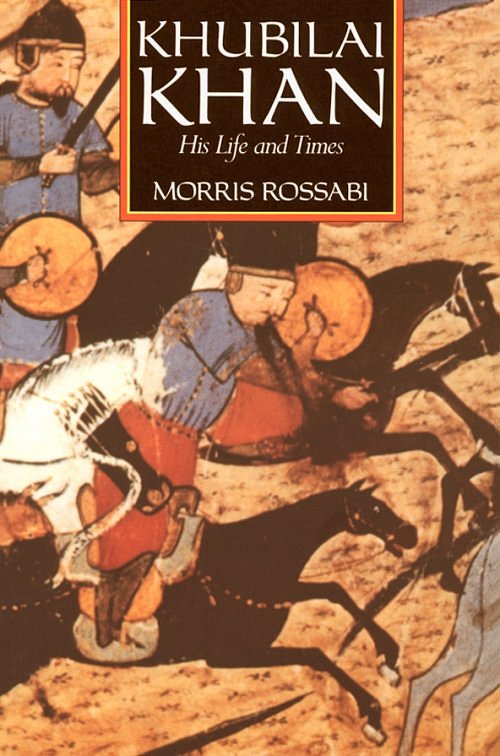 Where he from? What he did?

*Chingis Khan's ablest grandson; founder of the Yan dynasty; first northern alien to rule all China.

*Overseas expansion

-tried to conquer Japan twice (1274 and 1281) with massive naval assaults. But failed.
-made Tibet, Burma, Siam, Annam (in northern Vietnam), and Champa (in Southern Vietnam) tributary vassal states.
divided people in China into four groups, in a caste-like system, from top to bottom:

1.Mongols
2.other non-Chinese
3.North Chinese
4.South Chinese (former subjects of Southern Sung, 75%-80% of the total Yan population).

-Chinese humiliation: forbidden to bear arms, to learn the Mongolian language, and to assemble in groups; required to scrape and bow to Mongols and all other non- Chinese.