COCAINE

Cocaine is a powerfully addictive drug of abuse. Individuals who have tried cocaine have described the experience as a powerful high that gave them a feeling of supremacy. However, once someone starts taking cocaine, one cannot predict or control the extent to which he or she will continue to use the drug. The major ways of taking cocaine are sniffing or snorting, injecting, and smoking (including free-base and crack cocaine).

Health risks exist regardless of whether cocaine is inhaled (snorted), injected, or smoked. However, it appears that compulsive cocaine use may develop even more rapidly if the substance is smoked rather than snorted. Smoking allows extremely high doses of cocaine to reach the brain very quickly and results in an intense and immediate high. The injecting drug user is also at risk for acquiring or transmitting HIV infection/AIDS if needles or other injection equipment are shared.


Added Danger. When people mix cocaine and alcohol, they are compounding the danger each drug poses and unknowingly causing a complex chemical interaction within their bodies. Researchers have found that the human liver combines cocaine and alcohol to manufacture a third substance, cocaethylene, which intensifies cocaine's euphoric effects and possibly increases the risk of sudden death.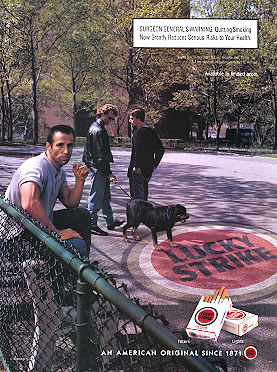 YOU ARE COOL ENOUGH WITHOUT IT. BE SMART. DON'T SMOKE. YOU'LL KILL YOURSELF SLOWLY!!!!!


MARIJUANA

Usually smoked as a cigarette or joint, or in a pipe or bong, marijuana has appeared in "blunts" in recent years. These are cigars that have been emptied of tobacco and re-filled with marijuana, sometimes in combination with another drug, such as crack. Some users also mix marijuana into foods or use it to brew tea.

The main active chemical in marijuana is THC (delta-9-tetrahydrocannabinol). Short-term effects of marijuana use include problems with memory and learning; distorted perception; difficulty in thinking and problem-solving; loss of coordination; and increased heart rate, anxiety, and panic attacks.

Longitudinal research on marijuana use among young people below college age indicates those who used have lower achievement than the non-users, more acceptance of deviant behavior, more delinquent behavior and aggression, greater rebelliousness, poorer relationships with parents, and more associations with delinquent and drug-using friends.

Information provided by the National Institute on Drug Abuse.









Second hand smoke will kill the the people who is next to you! Look around! Theres a lot of kids around you. Don't kill others.


Ecstasy
MDMA, called "Adam," "ecstasy," or "XTC" on the street, is a synthetic, psychoactive (mind-altering) drug with hallucinogenic and amphetamine-like properties. Its chemical structure is similar to two other synthetic drugs, MDA and methamphetamine, which are known to cause brain damage.

Beliefs about MDMA are reminiscent of similar claims made about LSD in the 1950s and 1960s, which proved to be untrue. According to its proponents, MDMA can make people trust each other and can break down barriers between therapists and patients, lovers, and family members.


Long-term effects. Recent research findings also link MDMA use to long-term damage to those parts of the brain critical to thought and memory. It is believed that the drug causes damage to the neurons that use the chemical serotonin to communicate with other neurons.
MDMA is also related in structure and effects to methamphetamine, which has been shown to cause degeneration of neurons containing the neurotransmitter dopamine. Damage to dopamine containing neurons is the underlying cause of the motor disturbances seen in Parkinson's disease. Symptoms of this disease begin with lack of coordination and tremors, and can eventually result in a form of paralysis.

Information provided by the National Institute on Drug Abuse.



Click here to find out what kids saying about esctasy! Click here to understand them!